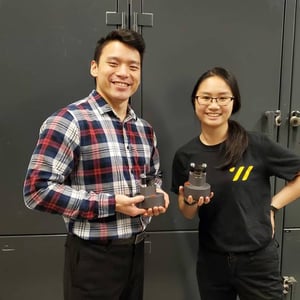 So, what's the latest with Elon Musk's Hyperloop project? We know our devoted design and engineering customers are as excited about the annual Hyperloop Pod Competition as we are here at W.C. Branham, so we wanted to update you on a couple of this year's teams. We have a somewhat proprietary interest in this project, not just because it's right up our engineering alley, but because over the years several teams have designed their prototype pods using our caliper disc brakes.
What Is the Hyperloop Pod Competition?
Most people are aware that Elon Musk and his company SpaceX are determined to build an entirely different mode of public transportation that would send folks to their destination ultra-fast through a vacuum tunnel. Musk believes this is an achievable, relatively near-term solution to traffic congestion and pollution. So in 2015, he launched the Hyperloop Pod Competition, inviting teams of college students to help design the future travel pod by creating functional prototypes.
The primary goal: maximum speed. Last year's winning team from Munich reached a speed of 288 mph.
However, the pod also has to stop. And stop fast. For the contest, pods have just 2 seconds to stop. Or crash. Clearly, brakes that can perform to spec – and reliably – are a critical component. Enter W.C. Branham. The teams choose pneumatic brakes because the vacuum inside the Hyperloop tube would cause problems for other braking models. Both of the teams below are using brakes from our Pneumatic Spring Applied Series.
A new twist for 2020
Elon Musk has tweeted that this year's course will be "more challenging" -- 10km long instead of just 1km, and curved instead of straight. A curved tube/track means teams will have to take into account the track's bend radius and their pod will require greater lateral stability.
Team AZLoop
Competing for the third year in a row, the AZLoop team combines students from Embry-Riddle Aeronautical University in Prescott and Arizona State University in Phoenix. Parker Landon is a dual major in computer engineering and space physics at Embry-Riddle. She is one of two women on the braking team and says there are two more women, serving as leads for the stability and engineering teams.
"It's an amazing challenge," she notes. "We have two teams 90+ miles apart, working on different subsystems at each campus."
Parker says AZLoop connected with Branham last year, after conducting a lot of research. They figured "if Branham's brakes can stop wind turbines, then they can stop our pod!" This year the team is using model PFS47EF brakes, the same type Branham provided to the University of Michigan in 2018. Parker says the brakes are easy to work with and Branham has been super-supportive and informative regarding design issues, including creating different-shaped brake pads. The team is using a vacuum chamber at ASU to test their pod.
Team Waterloop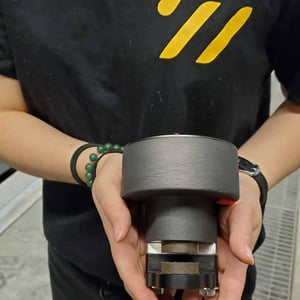 Waterloo, Ontario, is considered Canada's tech hub. So it's no surprise that students at the University of Waterloo fielded Hyperloop teams early on in the competition. They're back in play for 2020 after a two-year hiatus, having regrouped after many original team members graduated.
Emrys Halbertsma is a math theory/physics major who serves as a project manager on the mechanical side of the team. He's been fascinated by automotive transportation since he was little. "It's really fun to be a student working on a team with a common goal," he says, especially considering the Hyperloop's prospects as a sustainable alternative to cars and planes.
Team Waterloop is now conducting braking tests using a larger pod prototype. Because the pod is self-contained, the team has installed a DOT-certified paintball tank to hold compressed air that powers the brakes at 400 psi. They're using Branham's PFS38EF brakes with special seals.
The team originally developed their own braking system from scratch, but after testing weren't fully confident in its reliability. "There's no room for doubt in the competition," notes Embry, "we needed mechanical and electrical fail-safe." They reached out to Branham. "We knew they were enthusiastic, known for helping Hyperloop teams. It's been really great working with them. We had lots of questions about specs, both fit and performance, and they gave us detailed answers."
The team tried out various models and worked with Branham's Chad Randleman to make sure the brakes would fit properly to accommodate needed clearance, etc.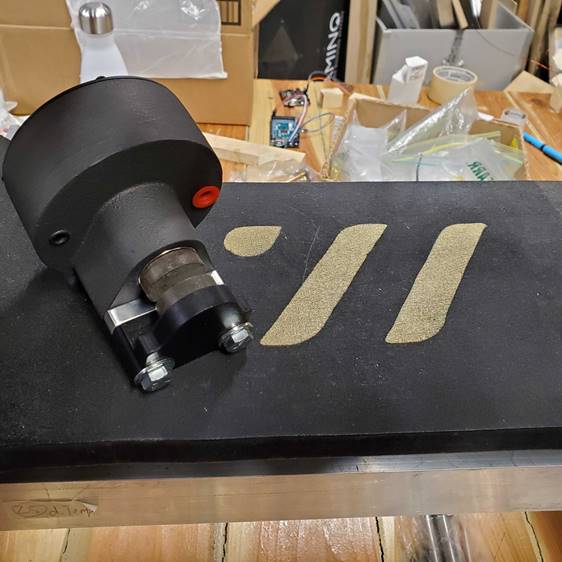 The SpaceX 2020 Hyperloop Pod Competition is supposed to take place in July or August. While there is some concern that COVID-19 restrictions might change that, teams can't afford to slack off on their design and testing efforts. Emrys Halbertsma says it's exciting to see how a new industry is growing around the Hyperloop concept. Like many of the teams, AZLoop and Team Waterloop are both working to organize their regional own mini-competitions. Fewer teams but innovative rivalry no less fierce.