Employee Spotlight: Bob Vogler's 13 Year Journey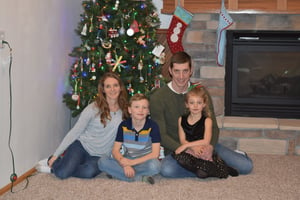 When Bob Vogler moved to River Falls, Wisconsin back in 2006, he'd never even heard of W.C. Branham. But less than two weeks later, he was already working here, and now he can't really envision leaving. It's an unlikely story that dates all the way back to a "help wanted" ad we posted 13 years ago.
"I think I'd been in town for about a week after moving here with my fiancee, and I happened to see an ad for a machinist in the local shopper," he says. "I had a machine tool degree, and I just thought, 'what the heck,' I'll just send them my resume and see what they say.'"
"They" responded the same day, and set up an interview a few days later. By the following Monday, he was already on the job. "I'd actually run the same type of machines that they had here at my previous job, so the whole process went well."
Since then, he's been promoted multiple times, moving from the machine shop to the front office. "I started out running machines and making the parts that we make normally and as I got more comfortable with that, they gave more to do and I started doing programming on the machine for parts."
A History of Promotions
Over time, they added more responsibilities, like making all the programming for new machines. Then, four years ago, he became a manufacturing supervisor.
"They needed somebody to go between the plant manager and the machine shop, to keep an eye on the machine and keep track of jobs and how things were flowing back there," he says. "They basically called me in and brought the idea up to me."
That's actually the Branham way, promoting from within when needs arise. Even our VP Engineering and General Manager, Chad Randleman, worked his way up through the ranks.
"He's made that comment before. They like to promote from within, and there are opportunities if you want them and you're willing to put in the work. There are opportunities to grow."
"I really appreciate that," Bob says. "It's a whole different type of challenge, supervising people and managing workflow as opposed to just running the machines and dealing with that part of it. It's really fulfilling to see the stuff get done and feel like you've had your hands in everything."
13 Years and Counting
After 13 years, though, Bob still isn't our most tenured employee. "We've got a group that's been here as long as me," he says, "but several a lot longer than me, that were here when I started."
"I like it because it's a smaller company, honestly," he says. "You know everybody that you work with every day. You get to know people really well."
"I know in bigger companies that people get lost in the shuffle. More emphasis on the bottom line than the employees and people working there."
Small Town Near a Big City
To say moving to River Falls paid off is an understatement. Bob and wife Lori now have two kids, son Alex (10) and Aubrey (7). "It's nice being in a small town atmosphere," he says. "It's great to raise kids in a small town like this. Not too small, but not too big, either."
They live close enough to the Twin Cities that Lori works as a nurse in St. Paul, yet Bob has a much shorter commute, less than 7 minutes to our W.C. Branham facilities, which are exactly 2.4 miles from his home.
They enjoy going to the Twin Cities for concerts, sports, and shopping, but never stay too long.
"If you want the big city experience, you can just drive over to the cities for the day, have all those types of activities you want, and then can be back home at night."
And Bob feels the same way about working at W.C. Branham. It's just right for his personality.
"I've enjoyed it," he says. "I feel like it's fairly low stress, really. You get the acknowledgment that you're working hard, and if you're doing extra stuff, they notice."
Yes, we've noticed. Since he answered that ad 13 years ago, Bob's hard work has been hard to miss.