W.C. Branham Inc. on Why We Love Working in River Falls
At W.C. Branham, we love working in River Falls, WI, because we get to have it all. We get the small town feeling and affordability, with easy access to all the Twin Cities' urban amenities. Drive five minutes in one direction, and you're out in the country. Drive 45 minutes in the other, and you can take in a Twins game. It's the best of both worlds, and it's our world!
We chose River Falls because it made the most sense
WC Branham President Troy Branham explains the history behind the decision. "My Dad relocated our company to River Falls 22 years ago, from Osseo, MN. Originally, we had our eye on a site in the west metro area of Minneapolis, but were concerned the project came in at the high end of our budget."
"We are a family of boaters," Troy continues, "and during that same time, we had our boat moored in Hudson, on the St. Croix River. We very much enjoyed, and looked forward to, spending time on the Croix and hanging out in Hudson after work and on weekends, so we decided to explore in and around Hudson for a location to move our growing company. We contacted the St. Croix Economic Development Corporation and, with their help, we found the future home of W.C. Branham, Inc. – River Falls. It was a more affordable investment for us, and the economic incentives added even more value, which made our decision a lot easier."
And we didn't have to go far.
River Falls is barely more than 30 minutes from downtown St. Paul, and only 45 minutes from downtown Minneapolis.
River Falls is a great place to do business
The local economy is humming. The commercial and industrial base has grown considerably over the last 20 years, which has created many jobs in the community, contributing to the ongoing growth of the entire area. Workers from the surrounding, smaller communities are attracted to jobs in River Falls. So there is a good size labor pool and talent selection.
River Falls is home to the University of Wisconsin-River Falls and Chippewa Valley Technical College, both of which partner with the community to share facilities as well as work with local businesses. The City of River Falls, local utilities, and city and county economic development staff are very supportive of local businesses and frequently reach out to offer any assistance they can. For example, the "Work River Falls" initiative brings local, community, and business leaders together to address local workforce challenges by promoting existing and future opportunities within the community.
The proximity of River Falls to the Twin Cities gives us a broad selection of companies to choose from when we need a supplier for services or materials. And having suppliers close by means faster delivery times and lower freight costs.
Our company also has a sales office in Florida now, but River Falls is our headquarters. Our home.
We have no reason to move somewhere else, and we don't want to. Moving a manufacturing business is costly, especially so for a small business such as ours. More importantly, we've invested in the area – in our workers – and we don't want to lose them. Many of our employees have been with us for over 15 years, some now over 20 years.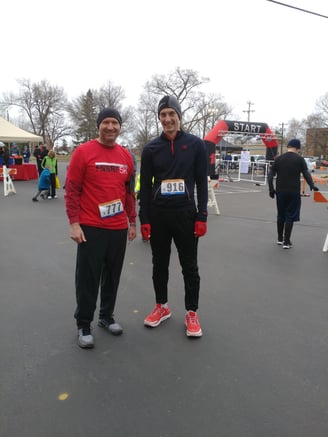 River Falls is a great place to live
Just ask Chad Randleman, our VP of Engineering and General Manager. He's lived in this area for 22 years. As a long-time resident, he loves the fact that River Falls is a small but growing community, yet it's not far from the metro area. "It's a short drive to catch a professional ball game, go shopping or attend a concert," he notes. Families benefit because River Falls continues to invest in its schools as well as parks and outdoor recreational areas. Plus, this area is more affordable than the Twin Cities.
And then there are all the recreation opportunities. When you live in this part of the country, outdoor activities are a way of life all year round. The River Falls area offers abundant options, with the rivers, parks, and trails. In no time at all, you can be enjoying several State Parks, numerous golf courses, downhill skiing, or the beautiful St. Croix River, which is a National Scenic Riverway.