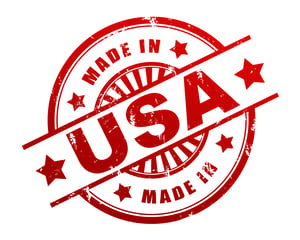 From technology and automotive to food and beverages, pharmaceuticals, and consumer goods, the manufacturing industry remains busier than ever. And what better way to celebrate National Manufacturing Day (MFG Day) Oct. 5 than to share the importance manufacturing has on our society and what inspires individuals to get into this line of work.
Manufacturing's Impact in Our World
There isn't much we use on a daily basis that wasn't manufactured by a company — local or international. The bed you woke up in: manufactured. The toothpaste (and toothbrush) you used to brush your teeth: manufactured. The car you drove to work: manufactured. The desk you sit at Monday through Friday: manufactured. And the stove you cooked dinner on: manufactured, as well. You get the idea. Manufacturing plays a huge role in the functionality of our country and world. So, why wouldn't we celebrate the industry?
National Manufacturing Day at a Glance
Manufacturing Day aims to address common misunderstandings when it comes to this industry by giving manufacturers the opportunity to open their doors and show others what exactly manufacturing entails. Manufacturers typically talk about the skilled labor shortage they face when looking for qualified candidates to fill open positions, connecting with future generations who may not naturally gravitate toward their industry as a career path, controlling the perception of manufacturing in our society, and ensuring individuals of the ongoing success manufacturing has in our world.
"MFG DAY is designed to amplify the voice of individual manufacturers and coordinate a collective chorus of manufacturers with common concerns and challenges," the event's website states. "The rallying point for a growing mass movement, MFG DAY empowers manufacturers to come together to address their collective challenges so they can help their communities and future generations thrive."
The Founding Partner Fabricators and Manufacturers Association started Manufacturing Day in 2012 and has since been joined by the National Association of Manufacturers, Manufacturing Institute, and the National Institute of Standards and Technology's Hollings Manufacturing Extension Partnership.
Inspiring the Next Generation of Manufacturers
At W.C. Branham, we are always looking for the next generation of manufacturers. But are millennials just as interested in manufacturing as the generations before them? Some, like Sean Helling, sure are.
Sean, who earned his D1.1 welding certification from Dakota County Technical College, learned about W.C. Branham from a friend who previously worked at our company. "He said he needed a reliable, efficient co-worker who would pay attention to detail and produce large quantity orders in a timely manner," Sean recalls. "I am a hands-on learner, so manufacturing was an easy choice over software."
Sean started with the general assembly of caliper disc brakes for the first year before learning how to complete tasks in other departments to expand his skill set and product knowledge."Through determination, my career path led to becoming a W.C. Branham inside sales representative while overseeing product quality on the floor," he says.
Manufacturing is a Growth Industry
Sean says he loves coming to work each day, not only for the welcoming atmosphere but for the learning experience, too. "Everyone is more than willing to lend a hand, which maintains a positive work atmosphere," he says. "On a daily basis, there is something new to learn while the work remains challenging yet rewarding."
In fact, Sean credits that ability to learn on the job for his growth in the industry. "Working for W.C. Branham has given me skills in many manufacturing departments," he explains. "Some examples include shipping/receiving, assembly, parts finishing, custom-built applications, lathe/mill parts production, and quality control/inspection. I could go on-and-on."
We hope more people like Sean find interest in getting their hands dirty in the manufacturing industry. We certainly view it as something worth celebrating.