The SpaceX Hyperloop Pod Competition to Return Summer 2019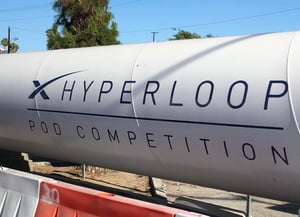 Only weeks after concluding its 2018 Hyperloop Pod Competition, where WARR Hyperloop of Munich, Germany, hit a record 290 miles per hour with its pod, SpaceX released the rules for its next competition. SpaceX's 2019 Hyperloop Pod Competition is set to be even bigger and better than the three previous challenges, and we can't wait to see what these students create.
Teams will not only aim to beat that 290 mpg record and successfully stop their pod for the new competition, but they'll have to do it with a few extra rules.
2019 Rule Changes
Here are the major 2019 rule changes, according to SpaceX's website:
Teams must use their own communications system. SpaceX will not provide its on-Pod communications system, otherwise known as the Network Access Panel (NAP).


Pods must be designed and tested to propel themselves to within 100 feet of the far end of the tube before stopping. This can take the form of a single main run to that point, or a "slow crawl" after the Pod's main run has been completed.
These rules aim to make students more independent as they craft their pod, but it won't be easy. Communications is one of the most challenging and complex parts of the pod, especially when you need it to function in a vacuum-sealed tube.
And returning teams, like Michigan Hyperloop, who we supported for the 2018 competition with pneumatic spring applied caliper brakes, must significantly modify an existing pod or design a new one in order to compete in next year's competition.
We know it will take a lot of work, but we're excited to see what these students come up with next, and ultimately, where this competition leads for our industry. And we'd love to be a part of the process in coming years.