Building a Custom Gearbox for Stainless Systems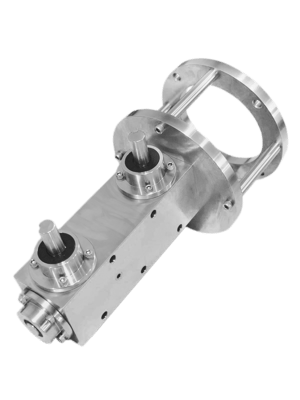 What does a custom design project look like at W.C. Branham? Here's an inside look.
Stainless Systems has been a Branham customer since May of 2016, primarily purchasing stainless steel cylinders. Stainless is a necessity in their line of work because many of their industrial equipment customers are in the food processing industry. Everything has to meet stringent cleanliness standards and withstand harsh wash-down environments.
Out of the blue, the company approached us with a new opportunity – creating a custom right angle gearbox, something completely different. This was a ground-up project. One of their own customers, a Tyson chicken processing plant, needed to replace a gearbox that had been installed a long time ago. Since it was probably custom-designed at the time, no off-the-shelf replacements were available. Could our Branham team help them start over?
Of course. As it turned out, we were able to design something even better than the original. And we did it, start to finish, in just about five months. Here's how it went.
The Problem
We got the call: "We have this, we need that – can you do it?" It took a few days to clarify the project. Stainless Systems sent over some photos of the old gearbox and its basic dimensions, indicating they were open to deviation if needed. That flexibility helped our design team, as we were able to produce a much smaller gearbox by using different types of gears.
There were two key objectives:
Horizontal Mounting Position. A major defect of the original gearbox was its orientation. Its vertical mount meant that it was vulnerable to the intrusion of moisture and harsh chemicals used during the washdown process. As a result, the processor motor failed frequently, and repeated replacement was expensive. Horizontal mounting would be preferable because it would repel washdown water rather than allowing moisture to get inside.
Stainless Steel Materials. Due to the application, the gearbox had to be made entirely of stainless steel.
The Solution
Here's a general timeline of events after we had all the information we needed in hand:
August 14, 2019 – Drawing sent for approval
August 15, 2019 – Price quoted
August 26, 2019 – Prototype ordered
The customer ordered just one, so they could install it and prove it under real-life conditions.
October 17, 2019 – Prototype shipped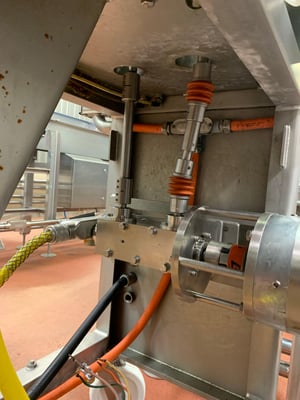 This is a single-input, dual-output gearbox designed to drive two separate things simultaneously. Dual output is never "standard" because the spacing between the two could be anything depending on the specific setup. For this design, we were able to use one stock gear set from our Branham inventory, which saved time and money. Since this gear set has higher capabilities than the original gears, the entire gearbox could be made smaller.
December 9, 2019 – Prototype installed
The client sent photos of the prototype in action. It worked great – even better than expected!
January 8, 2020 (approximately) – customer ordered 3 more gearboxes
This custom gearbox project was a relatively small opportunity, in terms of the number of units needed, but it was an interesting design challenge. And, ultimately, Stainless Systems will need 15 of these gearboxes, so their customer can replace all of the originals. They plan to do that in stages. They will also retain a few spares since this is a custom product.
For this project, there was really no choice other than custom design because the gearbox itself was so unique. The requirement for 100% stainless steel made the gearbox more expensive, but again there was no other option, given the application and environment.
We love to solve problems
We do quite a bit of custom work here at W.C. Branham, and it's one of the things we enjoy most. We are presented with a problem, and we find a solution for the customer. Sometimes that involves modifying one of our standard units, and sometimes we have to design from the ground up, as with the Stainless Systems project. Typically we can turn around most custom jobs in about 6-8 weeks after a quote is approved when we're starting from scratch.
Custom work is engaging, so we are always thinking creatively and looking into new technologies. Often, what started out as a custom product for one customer turns into a standard product we can offer to other Branham customers. (That's not likely to happen with the Stainless System gearbox, though, because this unit is so unusual.)
Custom projects also help to showcase our design and engineering expertise. The timing of the Stainless Systems project was especially fortuitous because Branham has focused more on the food processing industry for the past couple of years and we plan to introduce new stainless steel products for this type of application. One of them could be just the thing you need for your next application.