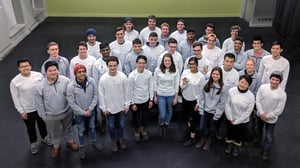 As the visions of one famous billionaire and thousands of innovative engineering students move us closer to a future of high-speed underground transportation, WC Branham is excited to be along for the ride. Every year, Elon Musk's SpaceX invites teams of students to design and create a pod for his Hyperloop Pod Competition, and this year WC Branham sponsored 3 teams that have been invited to compete in California.
Last year, we provided caliper brakes to the University of Michigan's team, Michigan Hyperloop, which reached the finals. This year, we helped Colorado, UC-Davis, and Queen's University reach the 2019 finals, where 21 teams from around the world will go head-to-head at the SpaceX Hyperloop Test Track on July 21.
The challenge of the competition is clear. The pods are judged entirely on one basis: "maximum speed with successful deceleration (i.e. without crashing)." That means braking – coming to a complete stop within 100 feet of the far end of the tube – is crucial for success.
Queen's Hyperloop Approach
Queens's University in Kingston, Ontario will go to California for the first time, after being eliminated in the design stage of last year's competition. Most of Queen's Hyperloop's 50-student team is new this year, and so is their design.
"I think overall our design is just very practical and very effective," says braking manager Devon Zhang, a senior. "Our propulsion unit is quite interesting. We're using four small motors to drive a pretty big wheel to propel forward. In theory, it can go quite fast, but it's also very robust and very easy to maintain at the same time."
Their goal is to achieve a speed in excess of 150 miles-per-hour, while still meeting the braking requirements. "We have to stop within 100 feet of the Hyperloop exit door," Devon notes. "that's new this year."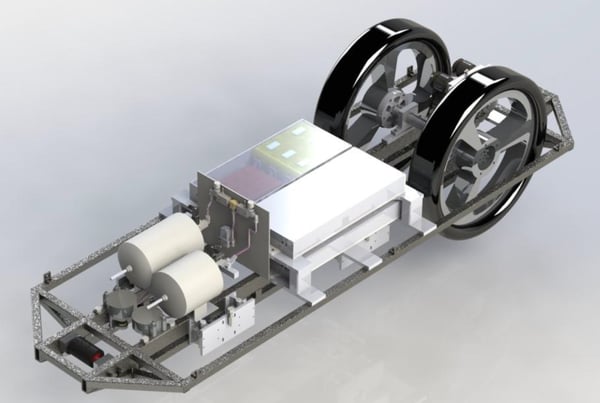 Queen's Hyperloop is using our new PFS38EF, one of our smallest pneumatic spring applied caliper disc brakes. "We need to make our brakes as light as possible," says Devon. "We also need to operate on the I-beam of the Hyperloop, so the brake has to be smaller, yet the PFS38 still allows us to get to 1.7G for braking force."
Hyperloop Collaboration
"We love working with these Hyperloop teams," says WC Branham President Troy Branham. "We had a blast with Michigan Hyperloop last year, and working with more teams makes it even better. These bright, young engineering students are the future. I'm really impressed with their design experience, creativity, passion, and professionalism."
For his part, Devon appreciates having an experienced Hyperloop partner to lean on. "The communication between us and WC Branham has been pretty great," he explains. "When we asked them questions about the products, they really understood the competition, so their answers were really, really helpful.
The finalists all must file a safety briefing this spring and then they will ship out to compete in Hawthorne, California - where SpaceX built its mile-long, 6-foot in diameter tube. The team is looking forward to the chance to compete and contribute to the future of high-speed transportation. But beyond that, Devon admits, they are really hoping to rub shoulders with the event's billionaire creator. "Elon Musk is super cool," he says. "We are all very excited to see Elon Musk."