What Can an Industrial Gearbox Replace?
Industrial gearboxes have been around for decades. They are commonplace, especially among industrial applications such as material handling equipment and packaging equipment. Despite this fact, right angle gearboxes are often overlooked as an industrial design option.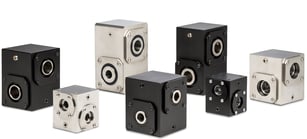 When talking with customers, we have found that younger engineers or those new to the field are not necessarily aware of all the options for changing direction in a rotary application. And right angle gearboxes offer several advantages compared to older, clunkier types of systems.
Rotational Adjustment Increases Efficiency
A right-angle gearbox uses rotation to transfer power to the output device. Most industrial gearboxes are suitable for light-duty applications and those that require only intermittent operation. There are some gearboxes specially designed for equipment that is used more continuously.
The typical attributes of right-angle gearboxes make them ideal for modernizing industrial facilities because they can replace:
Belts and pulleys
Chains and sprockets
Open gearing
Industrial Gearbox Benefits
There are several reasons to switch to right angle gearboxes when replacing older systems:
Better performance. A right angle gearbox is the most effective method of transferring rotary motion 90 degrees.
Reliability. Right angle gearbox gears won't slip as they rotate.
Lower maintenance. Because the case is pre-lubricated and sealed, the gearbox can function for a long time without maintenance, as long as it is used within specified ratings.
Greater safety. The equipment itself has fewer pinch points and is physically much less dangerous (and quieter) than other types of systems
Cleaner. Since the lubrication is sealed inside, there is no leakage, which means no mess.
Compact size. This is frequently a design benefit, all the more so when installation space is very limited.
Broader application. Right angle gearboxes are capable of covering long distances.
In short, you can save money and reduce expensive downtime. Right angle gearboxes are also more aesthetically pleasing. While this may not be your top priority, a production facility that looks cleaner and more modern instills confidence – especially if your facility receives outside visitors from time to time.
Right angle gearboxes are also tremendously versatile when it comes to equipment design. At W.C. Branham we currently offer three styles or right angle gearboxes – helical, worm gear, and spiral bevel – each of which offers specific benefits depending on the installation requirements. In general, you can choose:
Left hand or right hand output direction
Bi-directional function (except worm gearboxes)
A variety of gear ratios
Solid shaft or hollow bore
2, 3, or 4-way configuration
Watch the video below for an explanation of the most common questions surrounding right angle gearbox selection.
[VIDEO] Right Angle Gearboxes: Answers to Common Questions
More questions? Help is just a call away
W.C. Branham offers a multitude of right angle gearbox styles and configurations, and we're always happy to help you choose just the right product for your next project. We can also provide 3D STEP CAD files for any of our gearboxes. Sometimes a standard product won't quite do the job. If needed, we can also modify some products or create an entirely new custom design to match your specifications. We're here to help, whether you just have a technical question or you need expert engineering assistance puzzling through a challenging design.