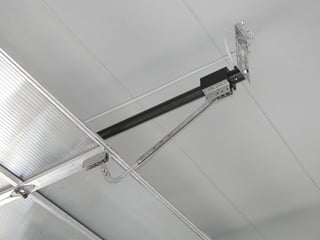 Certain types of commercial facilities have doors that are very large and very heavy. Often, these doors are an integral part of the flow of operations, such as in a car wash, where automation is essential. But not all commercial door actuators are the same. A pneumatic door operator assures the power and reliability you need to keep things moving.
Here at W.C. Branham, we've been designing and manufacturing actuators for more than 30 years, and we've been providing specialized pneumatic products for commercial doors at least half that time. In our experience, a premium quality pneumatic operator is often the best tool for the job.
General Considerations for Commercial Door Openers
The truth is, pneumatic door openers are not the cheapest option. But when your business depends on door movement, you want the greatest long-term return on your investment. Whether you're operating a car wash or a tire store, oil change shop, car dealership, or similar enterprise, commercial door openers must deliver:
Speed. The faster your door opens and closes, the less your interior is at risk from the elements. Extreme cold can damage car wash machinery and other equipment, and it makes life miserable for employees and customers inside. In the case of a car wash, greater door speed allows customers to flow through faster and more efficiently, generating more revenue. What would even a few extra seconds mean to you over time?
Power. Repeatedly hoisting and lowering doors takes torque, especially when physical conditions may cause doors to bind.
Reliability. You can't afford malfunctions that delay the flow of business or cause damage. (And it's not hard to calculate what those costs might be.) No matter how long the business day, how frequently doors open and close, or what the weather conditions, your door must perform dependably.
Pneumatic linear actuators are designed to address each of these concerns.
7 Advantages of Pneumatic Door Openers
Speed, power, and reliability are essential, but you want a door operator that is cost-effective, too. As you're considering your options, look for these features:
Repairability. Some magnetically-coupled pneumatic actuators can be repaired, which extends their life and your investment.
Larger bore sizes, which produce greater force.
Larger port sizes, which generate greater speed.
Internal cushions, which reduce premature wear and tear by smoothing acceleration and softening deceleration.
Tube wipers inside magnetically-coupled cylinders, which prolong life by cleaning away grease, detergents, and particulates that could otherwise build up.
Flexible mounting options that fit your design configuration.
A quality warranty.
Unique design is always an option
Even with all the features described above, sometimes the best choice is a customized or entirely custom product. At W.C. Branham, we're proud of our DoorTec® pneumatic door operators, but we know every installation presents its own challenges. We encourage you to check out our MAGTEC™ series actuators and our pneU-SA® guided series actuators. And if you have questions or want to talk custom design, just give us a call.