[VIDEO] Product Spotlight: OVLPRO's New Compact Cylinder Size
If you need push/pull pneumatic automation in a tight space, take a look at the new OVLPROTM Low Profile Cylinders from W.C. Branham.
OVLPRO cylinders are compact, lightweight and repairable. They are pre-lubricated for high duty cycles, and the new OVP25 series may be just what you're missing.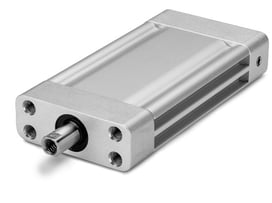 Size Matters – Or Lack Thereof
The new OVP25 compact cylinder series is actually smaller than a U.S. passport at zero stroke. The main body is a custom designed, high quality clear anodized, aluminum 6063T6 extrusion cylinder body, with a unique oval-shaped bore.
Besides its low profile, the oval bore uses a non-rotating oval piston which keeps the piston rod stable. The extruded body also includes integrated T-slots on both sides and internal crossover porting that provides a flexible choice of rear or side porting, or a combination of both. You may also choose a male or female threaded hard chrome plated rod as standard.
Piston magnet is also standard, making OVLPRO Low Profile cylinders sensor-ready for quick installation into the T-slots.
Low Profile, High Performance
The OVP25 series features a 25mm bore and is capable of creating 78 lbs of extend force and 67 lbs of retract force.
The OVP25MX is an upgraded version that includes a stainless steel hard chrome plated rod, stainless steel fasteners and HPCB high-performance composite bearing — all features for greater durability and endurance.
More About OVLPRO
OVL25 is the latest offering in the OVLPRO product line which includes the OVP44 mm bore series. W.C. Branham offers no charge OVLPRO samples to qualifying OEMs. We believe you'll be impressed by our quality and performance. Consult W.C. Branham today!