Options for Custom Industrial Caliper Disc Brake Design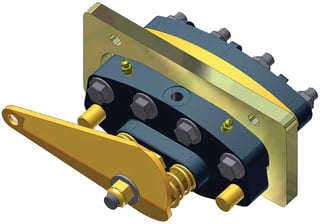 You cannot successfully customize industrial equipment design unless you have options. Options are particularly important when it comes to industrial caliper brake design, because optimum braking ensures safe, reliable, and efficient equipment operation.
W.C. Branham offers numerous styles of industrial caliper disc brakes, with multiple options for each type. With the right choice, you know your design will deliver optimum performance, whatever your application.
So which functional style do you need?
Static applications rely solely on the brake's ultimate tangential braking force, whereas multiple variables can affect dynamic applications, including stopping time and the amount of energy generated by the application. We offer a half-dozen choices, each with multiple configurations:
Despite all their differences, these industrial caliper disc brakes have one thing in common: they are built to last. You can learn more about W.C. Branham's caliper disc brakes in this product guide.
What if you need a custom product?
Your solution is just a phone call away. W.C. Branham is the go-to-resource when you need a unique design. Examples of custom products we have created include:
Parallel gear drives

A 5-way gear drive/lead screw combo

Various ratio hollow bore worm gear drives

A 4-inch bore magnetically coupled cylinder

A guided MAGTEC pneumatic actuator
Remember that size matters.
The type of industrial caliper disc brake you choose depends on your application. Some brakes enable emergency stopping, some provide continuous tensioning. But every design project is different. Brakes have to be powerful enough to do their job, but overkill wastes money. Right-sizing your brake will assure braking power and performance without sacrificing cost-effectiveness. You need the right diameter disc as well as the right brake.
To determine exactly what you need, just follow these steps:
Calculate braking torque. If your application requires stopping within a certain amount of time, you'll use a different formula than for uses that provide tensioning or constant drag.

Calculate dynamic or parking braking torque.

Calculate brake life in stops, for one or multiple brakes.
We've pulled together all the data tables and formulas you'll need, plus some helpful tips, in this caliper disc brake sizing guide. Download the PDF, and keep it handy for future reference!
Every design starts with a need – and an idea.
At W.C. Branham, tech support doesn't start after the sale. It starts the moment you have a question or need a detailed consultation regarding your design. Our engineers and manufacturing experts are here to help, so why not take advantage of our experience and insight?
You can run your idea by us to get specific recommendations, or get more ideas to help you arrive at the ideal custom design solution. We respond quickly, and we use the latest 3D CAD software. Our goal is to help you create the most efficient, cost-effective solution, no matter the application.