Ready for More: Branham Hopes to Back 6 Teams in 2019 Hyperloop Competition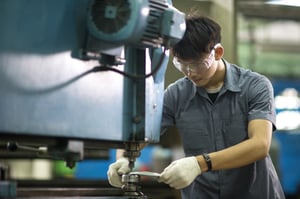 For four years in a row, Elon Musk's SpaceX has invited high school and college students to design and create a pod for the Hyperloop Pod Competition. The pods designed by student engineers are expected to help the development of a new, faster, cheaper form of transportation, The Hyperloop.
Last year, we provided caliper brakes to the University of Michigan's team, Michigan Hyperloop.
"We had a blast interacting with UM's team throughout their process from start to finish
and were impressed with their design experience, creativity, professionalism and
passion," says Troy Branham
According to the Michigan Hyperloop, our brakes caught the attention of several other teams at the competition. This year so far, we provided braking systems to two different teams participating in the competition — Queen's Hyperloop from Queen's University in Kingston, a city in Ontario, Canada, and CU Hyperloop from the University of Colorado in Boulder.
Here's what we know about each team and their design thus far.
Queen's Hyperloop
This is Queen's University's third time participating in the Hyperloop Pod Competition, but this is almost an entirely new team. Queen's Hyperloop has approximately 50 members including Jessica Kim, braking engineer, and Devon Zhang, braking manager. Both are seniors this year.
According to Jessica and Devon, the school's team has never made it past the final design phase, but they're hoping this year will be different. "We're going pretty far right now, and, hopefully, we do have a chance to get in the competition this year," Devon says. But the team is still waiting to learn if their design was selected as one of the 20-something designs moving forward in the competition. If so, the team will start building a prototype.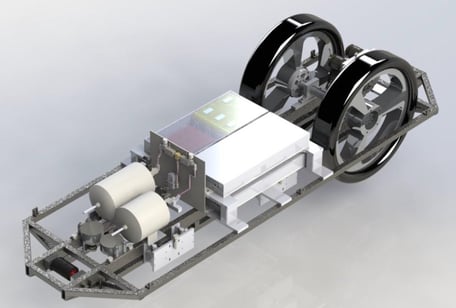 "This is the first year we have the budget and talent to actually create a real prototype and also create a very high level, good quality report and design," Devon says. "I would say it's the first year actually seriously doing this competition."
Using the PFS38 Brakes
Queen's Hyperloop happened upon W.C. Branham while conducting online research for braking options. When they noticed previous blogs about our partnership with Michigan Hyperloop, they knew they were in good hands.
The team decided to use our new PFS38, a smaller spring-applied brake. "The braking configuration requires three each. For comparison, this model has the same braking function as the PF47 model we supplied the University of Michigan last year but has 50% less braking torque," Troy says.
Unlike Michigan's team, Queen's Hyperloop plans to apply the brakes directly to the I-beams. "The newer spring-applied brake will allow us to get to 1.7G for braking force," Devon says.
As for their design? The design is simple, lightweight, and should achieve speeds greater than 150 miles per hour.
CU Hyperloop
This is the University of Colorado's fourth year participating in the competition. CU Hyperloop has around 20 team members including Wesley Gilliam, team lead for the braking subsystem and a junior who is new to the Hyperloop Pod Competition.
In previous years, the team hasn't been approved to move on to final design presentations, but that all changed this year, as the team waits to hear if their final design makes it on to the competition phase. "I think we have a pretty good shot," Wesley says.
Why They Chose P382 Brakes
Wesley and his team members reached out to some other companies inquiring about brakes, but then, they came across our partnership with Michigan Hyperloop last year and knew they wanted to work with us.
They ultimately chose to use the P382, a pneumatic disc brake, that we customized enough to fit into their design. "The P382 has side-by-side brake pistons in a compact brake housings sized to brake on the SpaceX Hyperloop track rail," Troy says.
The four sets of brakes will clamp directly to the I-beam and allow for a low G force. "We're going for a really quick stop time," Wesley says. "We're going for 4Gs."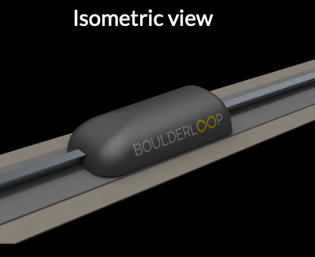 CU Hyperloop is also going for a simple design. "A lot of people go for these wild designs to try to win design elements," he says. "We tried that last year, and it was too difficult. This year, we are going with a simplistic style to try to win speed. We looked at what works and what doesn't from past designs. We're going for lightweight, high torque, and stopping fast."
Both teams are grateful for the opportunity to be part of something so cutting edge and unique. "I think the overall experience has been really cool," Wesley says."It's a new and developing technology, so we'll be excited to get out there, get our names on it, and potentially advance the technology.
Jessica agrees it's been an incredible experience. "We believe this is an amazing opportunity for Queen's University students to explore this new, innovative transportation technology.
We wish Queen's University and the University of Colorado luck as they await news of advancing to the next phase of the competition. You can follow Queen's Hyperloop and CU Hyperloop on their respective websites.