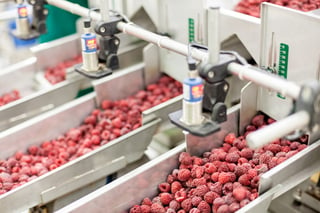 Food processing is complex, which is why these types of facilities are often huge and require multiple types of movements, from transport and sorting to lifting and rotating. Speed, reliability and sanitation are critical for processing facilities, especially if they handle perishables. In this environment, a compact cylinder provides several distinct advantages.
Space is Limited, So Size Matters in Food Processing
If space is limited, the configuration is problematic, or equipment movements are small, a standard cylinder may not fit. Even if it does, it likely won't give you maximum efficiency. That reduces productivity and, ultimately, profitability.
The ability to reduce footprint without sacrificing power, efficiency or control can make a significant bottom-line difference for processors. Compact cylinders fit into small spaces and accommodate movements that need only a short stroke because the rod slides on a small bearing surface, so they are ideal for lighter-duty applications.
Since space is a common problem, we make both traditional and compact pneumatic actuators. All of them conserve space because they stroke along the body length. In fact, they can reduce machine footprint by as much as half.
Compact Size + Oval Bore = Double the Advantages
Piston rotation is a common problem in industrial settings. It can unbalance loads, reduce efficiency and speed wear and tear, which isn't okay if you're running a food processing operation. To prevent this, our team at W.C. Branham developed OVLPRO, our line of pneumatic actuators designed with an oval-shaped bore. Not only do these eliminate the rotation problem, they are compact in every dimension – height, profile and width. They can be used together — stacked or mounted side-by-side — to boost thrusting power.
OVLPRO low profile, compact cylinders are double action, but can be customized for single action (power stroke in one direction only). An extruded high-strength aluminum body makes them lightweight, and they can be pre-lubricated, if needed, for high-duty cycling. With multiple porting and mounting options, OVLPRO cylinders provide maximum design and operating versatility.
Our OVLPRO MX models take durability to the highest possible level, with a stainless steel hard chrome-plated rod, HPCB high-performance composite rod bearing and stainless steel fasteners.
You can learn more about what makes our OVLPRO line unique in this video: [VIDEO] Introduction to OVLPRO™ Low Profile Pneumatic Cylinders.
We Have the Compact Cylinder for You
At W.C. Branham, we're all about variety and versatility. With decades of experience under our belt, we know every industrial equipment design presents its own set of requirements and challenges.
Not sure what's best for your application? Don't hesitate to come to us with questions. We're always happy to customize or custom-design from scratch if needed, too. In fact, our OVLPRO compact cylinder design was originally created to address a specific customer need. Contact our team of experts today!