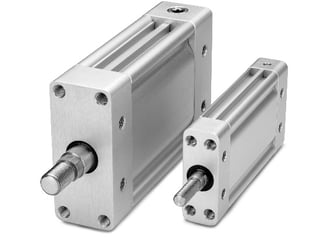 The bore shape of a compact cylinder can make a big difference, in both performance and costs. With a traditional rod-style pneumatic cylinder, the rod is attached to a round piston inside a sealed tube, allowing the rod to extend and retract through a cap in one end of the tube with each stroke.
The problem is that the rod can rotate slightly as it slides because the round piston that it is connected to rotates. Rod rotation reduces the cylinder's performance by pulling the intended thrusting force off-line. Over time, off-center loading can cause premature or uneven wear on the seals and rod bearings, or cause the rod and/or piston to bend. The cylinder can also fail if the rod de-threads from the piston.
In certain industrial applications, rod rotation can be an especially serious problem. One solution is a guided cylinder that uses guide rods and guide blocks mounted parallel to the piston rod to hold it in position as it strokes back and forth.
But Who Says Pneumatic Cylinder Rods Have to be Round?
W.C. Branham's OVLPRO™ low profile rod cylinders provide an ingenious alternative, using an oval-shaped bore and rod instead. Oval bore compact cylinders offer multiple advantages.
1. No worries about rotation:
The oval shape means the rod cannot rotate when extending or retracting.
2. Greater durability and uptime:
Reducing risk of component damage or failure saves money and boosts productivity.
3. Space savings:
The high-strength aluminum body has a lower profile than round bore cylinders and can be used flat or on its side, so it fits in more spaces and can be stackable.
W.C. Branham Has You Covered
OVLPRO series cylinders come in a wide range of standard stroke lengths. Rods can have a male or female thread and can be side- or rear-ported. We invite you to check out our newest sizes, the OVLPRO 44 millimeter bore diameter and the OVLRPRO 25 millimeter (a great choice for medical assembly and food processing applications).
Here at W.C. Branham, we offer a variety of pneumatic cylinders, both rod-driven and rodless, including our DURATRK line. We know that it can be rather daunting to navigate through the seemingly infinite options in search of the right configuration for your design, which is why we also provide 2D and 3D CAD files of our products.

However, there are times when none of our "standard" options are precisely right for your application and you need a unique cylinder to meet unusual functional and/or physical requirements or limitations. We do a lot of custom work, too!

Call us, or send us an email. We can provide sage advice based on our considerable experience. We can tweak any of our products, or we can custom-build something entirely new just for you. Perhaps something like a twin rod oval bore compact cylinder?