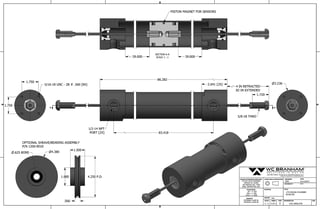 One size does not fit all. That's true just about everywhere, but nowhere is the need for a good fit more important than in industrial design applications. Equipment that doesn't perform flawlessly impedes productivity and wastes money. Pretty good is not good enough. Sometimes, only a custom cylinder will do.
But how do you know when custom is the way to go?
It's a Matter of Efficiency
With a custom cylinder, you get just what you need, and nothing else. Not too much, not too little. No cutting corners or creating workarounds to accommodate some standard product.
The Possibilities are Endless
With custom design, you get to pick and choose precisely the materials and features you need. W.C. Branham makes an impressive array of product options, but what you see on our website is only about 60% of what we offer. The other 40% is custom products we make for customers in high volume.
The Right Features
We make pneumatic cylinders in many styles and optional configurations. Often, though, customers ask us to modify them further, by adding or eliminating specific features.
The Right Materials
Customization means you can select the materials that are most appropriate for your application, rather than settling for materials that are not suitable for your performance requirements or operating environment.
Affordability
We know you're concerned about cost and also long-term parts availability. But don't let that keep you from considering a custom cylinder. Custom products are not necessarily more expensive.
Purchasing a not-quite-right standard cylinder will cost you in reduced efficiency and ROI. And why pay for features your application doesn't require? We can eliminate some unnecessary features as a cost-saving measure, too.
We Get Excited About Custom Design
Here at W.C. Branham, product quality is our number one priority. That means you get the right materials, features, and physical traits to fit your need. Often that requires a custom cylinder. So bring it on! We can customize or design from scratch to fit your application.
We'll listen to your challenges and concerns with an open mind. We'll work hand-in-hand with you through the design and development phase, and through the prototype phase, to get you the custom cylinder you want. We have the people and the design capabilities to do that. We also have the manufacturing facilities to build custom components.
A lot of companies either can't do custom design, don't want to do it, or they can't do it efficiently. We can, and to say we "like" doing custom work is an understatement. We love the challenge of keeping up with new technologies and requirements for the type of products we make. And we get excited every time a customer brings us new requirements or applications that allow us to help develop new products and innovations for the markets we serve.
In fact, the majority of our orders are custom in some way. Check out these examples of recent custom products.