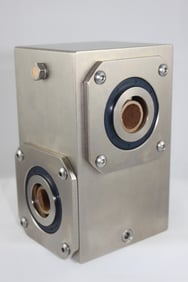 The food and chemical processing industries require specialized equipment as well as highly-controlled working environments. Choosing the right gearbox to keep processing equipment moving smoothly is crucial. But there are other factors you have to consider. With that in mind, we have answers for some of the most frequently asked questions.
Why does the gearbox have to be different for these applications?
Sanitation is everything in industries such as food and beverage processing as well as pharmaceuticals manufacturing. Maintaining a sterile environment is critical to avoid contamination. But machinery needs lubrication in order to function. Both the products being processed and the industrial equipment itself must be protected from contaminants.
A sealed gearbox keeps lubricant in and potential contaminants out. Sealing eliminates leakage of lubricant. It also eliminates infiltration of moisture or fine particles such as dust from corn milling. But the gearbox also has to withstand repeated spray, steam, and pressure from washdown operations.
Is there a preferred gearbox material for food and chemical applications?
Stainless steel is the material of choice for these environments, just as it is for medical-grade equipment. It won't rust. It resists corrosion. There is no paint to chip off. Traditional cast iron and epoxy-painted gearboxes do not hold up under the harsh conditions of food and pharma processing environments – ongoing exposure to water, acids, oils, harsh chemicals, abrasion, and high-pressure washing down.
W.C Branham offers the widest range of stainless steel right-angle gearbox models available:
Standard or base mount configuration

1:1 Ratios with choice of bore center distances of 1.0, 1.5, 2.5 inches and many bore diameter combinations

Integrated hollow bore shafting with various gear ratio and bore size combinations
Stainless steel continuous duty and washdown gearboxes feature Continuous Recirculating Lubricant (CRLTM). Because the gearcase is self-contained – fully sealed and leak-proof – positive lubrication is maintained continuously. All of these right-angle gearboxes can be spec'd with right- or left-hand rotation.
Why would I need food grade grease?
H1 grade lubricants must be used in any production environment where the grease could come in contact with food or pharmaceuticals being produced. Even when there is "no possibility" of contact, food and drug regulations require the use of H2 grade lubricants. These lubricants meet the same technical standards as other types of grease, ensuring reliable gearbox performance. You can spec food grade grease as an option with any of W.C. Branham's continuous duty or washdown stainless steel gearboxes.
Here at W.C. Branham, we know your gearbox application may have to address unique challenges. We're always happy to answer your design questions and provide guidance on choosing stainless steel or other gearboxes. We can also provide 3D STEP CAD files for any of our gearboxes.