What is a Right-Angle Gearbox?
What is a right angle gearbox?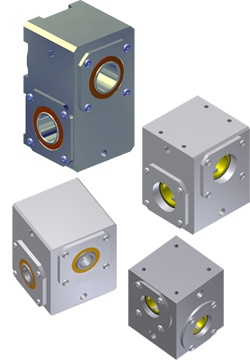 A right-angle gearbox is one in which the driveshaft and the output shaft meet at a 90o angle, using rotation to transfer power.
Right-angle gearboxes are used in numerous types of mechanical designs – automotive transmissions, for example. However, in this article, we will focus on right-angle gearboxes for industrial applications. Here at W.C. Branham, we manufacture a wide range of helical, worm gear, and spiral bevel gearboxes. But there are many factors to consider when it comes to spec'ing the proper right-angle gearbox for your particular design.
Here are some resources that will help you sift through the options.
Do you need right- or left-hand rotation?
Don't let the name of this gearbox throw you – the gears work at right angles to one another, but they can rotate to the right or to the left. Which direction will your application require?
Choosing the best right-angle gearbox for your design
You can configure a right-angle gearbox almost any way you like using our standard design components. And if that doesn't work, custom design can get you where you need to go. But where to start? This checklist will help you select the correct right-angle gearbox.
Finding the just-right style and size right-angle gearbox
We know a thing or two about right-angle gearboxes, because W. C. Branham pioneered the right-angle hollow-bore helical gearbox with pre-lubricated, leak-proof housing. This product offers several advantages over other right-angle gearboxes, but choosing the style and size that's ideal for your application takes know-how. Troy Branham explains what you need to know in this video.
Common sizing mistakes to avoid
Your design has to be spot-on, or it won't perform the way you anticipated. There is no room for error when it comes to sizing your right-angle gearbox. These tips will help you avoid the four most common mistakes designers make.
Find bevel gear examples in our blog.
Does your application require high speed?
Many industrial applications call for high-speed, high-torque equipment operation. Common examples include car washes and other facilities with roll-up doors, food processing and packaging, bottling lines, and pulp and paper manufacturing. Right-angle gearboxes can be ideal in these settings because they are compact, efficient, reliable and durable. But which high-speed right-angle gearbox is the best choice?
Extending gearbox service life
Our right-angle gearboxes are exceptionally reliable and low maintenance, but nothing lasts forever. Especially gearboxes working in harsh, demanding industrial environments. With a few simple proactive steps, you can prolong the service life of your gearboxes.
Your best resource may be our Branham team
You can find our entire library of resources here, to learn more about right-angle gearboxes and all the other industrial Solutions in Motion we have to offer at W.C. Branham. That said, customers often find the best resource of all is our team of friendly, experienced designers and engineers. We love what we do, so we're always happy to help answer your questions and help you puzzle through the gearbox selection process.