4 Common Mistakes Made When Sizing a Right Angle Gearbox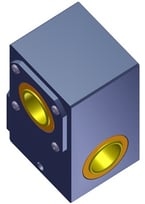 Every design engineer knows that you have to get all of the details right. If not, the device or equipment you've designed won't perform as expected. Or, at least, not as well as expected. That won't do, especially when you're designing machinery for industrial applications.
Right angle gearboxes are a good example of this. They're popular because of their versatility and value for a wide range of industries and specific applications. However, that versatility can be your downfall during the design phase.
Right angle gearboxes fit many different situations because they can be configured and installed in multiple ways. It is essential to spec your gearcases correctly in order to avoid unfortunate design errors. So, let's look at four of the most common mistakes.
Mistake 1: Failure to consider the "big picture"
There are many factors that affect gearbox selection as well as sizing, so you need to ask yourself the right questions:
What input horsepower and speed are needed?

What is the desired output speed (or torque)?

How long will the gearbox operate each day?

Will it have to withstand special environmental conditions such as shock, vibration, corrosives?

Will loads be supported or unsupported?

Will hollow-core input/output be required?

How will the gears be oriented? (Will the shafts protrude horizontally or vertically? Downward?)

How will the gearbox be mounted?
The answers to these questions help you determine the ideal gear ratio, and whether you'll need special materials such as stainless steel or extra protections such as redundant seals. You want to achieve both efficient, reliable performance and maximum lifespan.
Mistake 2: Not realizing right angle gearboxes come in different styles as well as sizes
W.C. Branham manufactures a broad array of right angle gearbox models, each designed to accommodate a variety of options. For example:
I

nsert-a-Shaft models are an ideal choice for packaging equipment. They come in a hollow-core configuration that allows the shaft to run through the gearbox bore.

Continuous recirculation lubrication (CRL) gearboxes are a good choice for high-cycle or heavy-duty applications.

Spiral-bevel models work best for high rpm applications.
Will your gearbox need extra protection from a harsh environment such as marine or washdown applications? We offer stainless steel options for that.
To properly size your gearbox, you will also need to consider:
Gearbox height

Configuration (2-way, 3-way, or 4-way)

Bore center line measurement

Gear ratio
Mistake 3: Assuming custom design is an extreme measure
As we noted above, your goal is to design a right angle gearbox that will deliver both maximum performance and maximum durability. Despite the myriad configurations you can create with our different gearbox models and options, custom design can sometimes be your best option.
Custom design is not a "last ditch" choice. It ensures your design precisely fits the application, physically and functionally.
Mistake 4: Not asking for help
Industrial design is a team sport. Collaborating with our design and engineering experts will save you time and help you avoid all the mistakes commonly made when sizing right angle gearboxes. Just click here to connect with our experts!