Selecting a Caliper Disc Brake for Your Industrial Application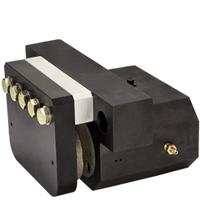 Caliper disc brakes are incredibly versatile. They can slow, hold, and stop very heavy and/or fast-moving units quickly. For this reason, they are well-suited to applications that require high torque, high energy stopping, and/or tensioning. Caliper disc brakes absorb the generated energy of the braking process, then dissipate that energy as heat. Here is an overview of each type of brake and what it does best, to help you in selecting the right kind for your application.
Pneumatic Brakes
Pneumatic brakes are powered by compressed air. Because many industrial spaces have "shop" air available, these are a popular option. Pneumatic industrial caliper disc brakes are often used to slow, stop, or hold rotating or linear moving parts. They usually operate around 70-120 PSI and max out at 200 PSI, as opposed to hydraulic brakes which operate at higher pressures. W.C. Branham offers many pneumatic brake options to fit a wide range of braking force requirements.
Hydraulic Brakes
Hydraulic brakes are powered by compressed fluid – hydraulic oil in the case of most industrial equipment. Hydraulic brakes are designed to withstand higher pressures, which allow for maximum braking force, so they are ideal when you need to stop, hold, or tension equipment with higher torque. Hydraulic brakes are standardly used in mining, agricultural, or similar heavy duty equipment. As a standard, W.C. Branham brakes are designed with seals to be used with hydraulic oil, but we do offer options where automotive brake fluid is used.
If you have shop air but need the higher pressure capability of hydraulic brakes, you can purchase air/oil intensifiers that convert shop air into hydraulic pressure. This cost-friendly solution allows you to use hydraulic industrial caliper brakes even if you have no hydraulic pressure source.
Pneumatic or Hydraulic Spring Applied Brakes
Spring applied brakes work differently. Instead of directly-applied pressure, internal springs apply braking pressure. The springs maintain tension until the spring is pressurized. The actuating power source can be either hydraulic or pneumatic. W.C. Branham carries one of the widest selections of both in the market.
These types of brakes are best for emergency stop applications and are often referred to as "fail-safe"or "E-stop" brakes in industrial settings. There are many combinations of pneumatic and hydraulic spring applied brake options.
Mechanical Brakes
Mechanical brakes operate with a simple lever and require no external power source. This series of brakes exerts braking force effectively to objects in rotary or linear motion and are often used in manufacturing applications where air or hydraulics are not available or not needed. A good example is an industrial cart that requires manual braking with a lever. We offer several mechanical brake options that feature cast or extruded aluminum construction, hard coated housings, and replaceable, non-asbestos friction pads.
Which industrial caliper brake is right for your application?
In an earlier blog article we talked about how to choose the right size caliper disc brakes, but prior to sizing the brake it is important to determine the right kind of brake. To do that, you need to know your:
power source: pneumatic,hydraulic or manual;
braking needs: stopping or holding (or both), emergency stopping, tensioning;
application: breaking linear rail or rotor;
potential space constraints or mounting requirements.
Brake Sizing Can Determine Braking Power
In most cases, you can vary the disc diameter, number of calipers per disc, and actuating pressure to achieve your application's specific stopping or holding requirements. Increasing caliper piston size increases clamping pressure, but overly-large pistons can cause the brakes to lock up.
You can mount calipers in a fixed position, in which case the caliper will operate using opposing inner and outer pistons to apply pressure equally from both sides. Calipers can also float, mounted on a pin that is attached to the spindle.
Options are particularly important when it comes to industrial caliper brake design, because optimum braking ensures safe, reliable, and efficient equipment operation. You can learn more in this product guide.
Right-sizing your brake will assure braking power and performance without sacrificing cost-effectiveness. You need the right diameter disc as well as the right brake. The larger the diameter, the greater the braking torque. We've pulled together all the data tables and formulas you'll need to do the calculations, plus some helpful tips, in this caliper disc brake sizing guide. Download the guide and keep it handy for future reference. It'll help you get the braking force you need without overspending.
Every Design Starts with a Need – and an Idea
At W.C. Branham, tech support doesn't start after the sale, it starts the moment you have a question or need a detailed consultation regarding options. While detailed specs for all our products are available online, our engineers and manufacturing experts are also here to help. So why not take advantage of their experience and insight?
You can run your idea by us to get specific recommendations. We can modify nearly all our standard products to fit your specs, but we are also the go-to-resource when you need a unique design. We respond quickly, and we use the latest 3D software. Our goal is to help you create the most efficient, cost-effective solution, no matter the application.