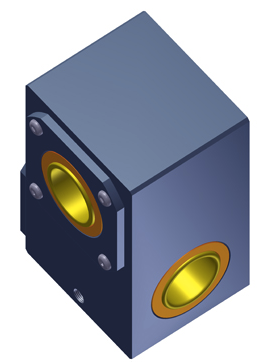 Right angle gearboxes are useful across a broad range of industrial applications. To choose the best gearbox(es) for your design, you'll need to consider size, capability, mounting, and environmental requirements.
All of these factors affect sizing and selection of right-angle gearboxes:
Input speed and horsepower
Target output speed, or output torque (this helps determine gear ratio requirements)
Service characteristics, such as how many hours per day the gearbox will operate and whether it will need to withstand vibration and/or shock
Overhung loads, axial loads, and external moment loads should be supported by bearing block supports. Unsupported loads can transfer to the internal gears and push them out of alignment and accelerate wear and tear
Shaft versus hollow-core input (and output)
Gearing orientation (shafts can protrude vertically or horizontally, and with a right-angle worm gearbox, the worm can be positioned over or under the wheel. If the shaft will protrude downward, you may want to add redundant seals)
Special-needs working conditions that require stainless-steel shafts and housing or corrosion-resistant paint
Mounting requirements
There's a style and size just right for your needs
W.C. Branham was the first company in the industry to introduce right-angle hollow-bore helical gearboxes with a pre-lubricated, sealed, leak-proof gearcase. These gearboxes outperform other types of right-angle models, transmitting power by using two helical gears which mesh at 90o. They are bi-directional, and they're easy to install because they slide axially along keyed shafts.
We manufacture a wide range of right-angle gearbox options, including:
Most of our gearboxes are rated to operate at 1200-1800 maximum rpm. Depending on the model, these products come in:
Sizes from 2.87 to 6.6 inches tall
Hollow bores or with;
2-way, 3-way, or 4-way integrated shaft configurations
0.5 to 3.00 inch bore center line
1:1, 2:1, or 3:2 gear ratios
High quality ball bearing designs
This video answers common design questions about right angle gearboxes.
Sizing Your IAS or CRL Gearbox
In this video, our VP of Engineering and General Manager Chad Randleman explains that there are basically three areas you need to consider when sizing your Insert-A-Shaft or Continuous recirculating lubrication (CRL) gearboxes:
As Chad stated, the three areas you need to consider are:
Required Torque for the Application. Along with the required output torque, you'll need to know what's required for your application in terms of RPM and shaft rotation. IAS Gearboxes are available in both left- and right-hand rotation, which determines the output shaft rotation in relation to the input.
Radial or Axial Loading of the Application. If you have radial or axial loading applied to your gearbox shaft, you'll want to account for that and support the shafting externally using bearing blocks.
Duty Cycle of the Application. For light to moderate duty applications, gearboxes would be considered lubricated and lubed for life. For more severe duty applications, it's advised that you put them on a regular maintenance schedule for relubrication.
Custom design is often the best choice
Despite the wide range of standard sizes and configuration options, sometimes a custom-designed right-angle gearbox makes more sense. Customized products can precisely meet your design specs. W.C. Branham's engineering and manufacturing experts are always happy to assist you with design ideas as well as gearbox selection and implementation advice.
We use the latest 3D CAD software and can provide 3D STEP CAD files for any of our gearboxes.