When are Oval Bore Cylinders Right for Automated Assembly for the Medical Industry?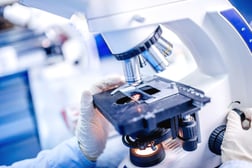 No matter what your industry, the equipment in your production facilities has certain requirements in common. It has to provide:
Durability and reliability that ensure maximum uptime
Benefits that ensure a strong return on investment
And it has to be a perfect fit for your operating environment. But not all environments are equal. Some, such as automated assembly in the medical and semiconductor industries, are far more demanding. Here, positioning equipment must perform with ultra-high precision and stability, often at very high speeds and in limited space. And components have to be appropriate for clean environments. Without all that, you cannot maintain the integrity of products coming off the line.
While there are many types of cylinders out there, a low profile oval bore cylinder may be the perfect product for your application. Here's why.
Why Oval?
Let's start with the obvious. A traditional round, rod-style piston, extending or retracting in a round hole, can rotate slightly. Even the slightest variation can reduce performance, and when extreme precision is at stake, that's a significant problem. An oval piston, working in an oval bore, cannot rotate. Problem solved.
But with our OVLPRO series pneumatic cylinders, you get more than precision. These cylinders can perform literally millions of cycles, so you get the durability and reliability you need. With rod-style pistons, the ability to rotate can push loads increasingly off-center, causing premature wear on rod bearings and seals or causing the rod to de-thread.
OVLPRO cylinders are small, too. The OVP44 has a 44mm (1.75") bore and can produce any stroke length up to 12". The even smaller OVP25 has a 25mm bore and can be spec'd with any stroke length up to 8". It is an ideal choice for medical and semiconductor automated assembly applications.
OVLPRO models are made of high strength extruded aluminum in a low-profile shape that can be mounted in a variety of ways, flat or on their side. They come standard with a piston magnet, so they are sensor-ready. And their Teflon-based lubrication grease is unfazed by potential environmental dangers such as hot surfaces and corrosive moisture. Yet another feature that proves their ROI value — OVLPRO cylinders are repairable, should such a need ever arise.
Speaking of Mounting...
Our team of clever designers and engineers here at W.C. Branham has recently created a new mounting plate for our popular DURATRK rodless cylinders, so they can be mounted horizontally. This mounting also fits our oval bore cylinders.
"Integrating the OVLPRO cross adapter with a DURATRK DTF 25 or 40 series rodless cylinder adds OVLPRO cylinder Y-Axis functionality which is ideal for pick and place material handling, and at an affordable price," says Troy Branham.
Sometimes even the best rod style cylinders are not quite the right choice for your equipment design. For medical and semiconductor assembly applications, Branham's OVLPRO series makes more sense. So give us a call. Let's talk.