Advantages of ISO Pneumatic Cylinders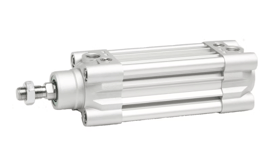 ISO pneumatic cylinders allow you to get the exact cylinder your company requires in the instances of both a replacement or a new design-build project. Having these interchangeable cylinders available at your manufacturer or distributor keeps your production on schedule. This is why W.C. Branham has expanded our product line of actuators to include ISO-compliant pneumatic cylinders.
ISO cylinders, like NFPA cylinders, can be single- or double-rodded and can accommodate magnetic sensors if needed. Replacing one ISO cylinder with another of similar specification ensures you will get a perfect dimensional fit – critical for consistent, reliable performance whatever your application.
What Is ISO?
The International Organization for Standardization (ISO) is an independent, international entity that establishes quality and safety standards used by manufacturers worldwide. The point is to ensure consistent, reliable production by helping companies work more accurately and efficiently. There are ISO standards that apply to specific products and services and also to overall systems.
An ISO pneumatic cylinder is one that meets ISO specifications and standards based on the type of actuator.
ISO 15552 Standard Cylinder
ISO 21287 Compact Cylinder
ISO 6432 Round Body Cylinder
Pneumatic cylinders are widely used in industrial settings because they are the best choice to perform many types of tasks necessary for food and beverage processing and packaging, printing, material handling, and more.
Who Needs an ISO Pneumatic Cylinder?
As we all know, metric dimensions are not the same as imperial standard units we predominantly use in American manufacturing and industrial design. But not all equipment used here in the States is made here -- sometimes machinery is imported from Europe or other regions where the metric system prevails. Since that equipment is designed to conform to European metric standards, it has metric components. That doesn't matter until you need replacement parts and you realize standard US-made pneumatic cylinders may not exactly be the same.
In the past, you could order those parts from a European supplier. But the major disruption of the global supply chain has made it extremely difficult to get those vital replacement parts, certainly not in a timely manner. American manufacturing and industrial facilities can't afford to sit around idle waiting for parts to arrive.
Some American equipment manufacturers also sell their products outside the US, in countries where metric standards are required. Or, they would like to do so to expand their business. These companies also need ISO pneumatic cylinders but face the same supply challenges.
Our W.C. Branham-Artec Partnership Relieves the Pressure
Artec manufactures pneumatic cylinders that meet all three ISO standards in addition to stainless steel options. These products are interchangeable with other ISO cylinders, so now customers in the US and Canada who are looking for replacement parts can simply call us here at W.C. Branham to get what they need.
Readily available components mean companies can bypass downtime to stay on track with production. An expanded catalog of pneumatic cylinder options will help businesses in future equipment design and application solutions. W.C. Branham is excited about our new partnership with Artec because it enables us to help even more customers solve their equipment design and operational challenges.