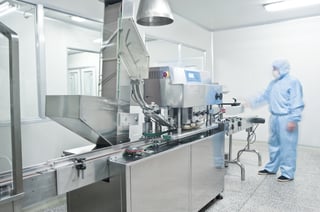 Cleanliness matters in all manufacturing facilities, but in certain situations, extreme sanitation is priority number one. Food and beverage processing, for instance, cannot allow contaminants to accumulate on equipment because they could get into products. And pharmaceutical manufacturing requires sterility down to the microbial level. Therefore, in all these environments, equipment must be washed down frequently.
Wash down involves high-pressure cleaning with very hot water and/or chemicals. This process is designed to kill bacteria and other microorganisms. Since it is both frequent and intense, it's imperative to have industrial components that can withstand such harsh conditions as well as deliver desired performance reliably. Food packaging equipment, for instance, generally requires components that can achieve high-speed actuation and withstand the rigors of repeated, caustic washdown.
Equipment often has to meet stringent standards set by an array of government and industry entities. Those standards also directly affect equipment design and component choice.
Products That Meet Sanitation Requirements
W.C. Branham is well-versed in addressing specialized sanitation needs for industries such as food and drug manufacturing. We understand that you need components that function as simply as possible, yet also provide maximum durability and dependability. And we know every project comes with its own set of challenges and limitations.
We can help you figure out which components will work best or custom design washdown solutions uniquely suited to your application and location.
Although, there's a good chance one of our numerous standard products and vast configuration options will be just what you need. For example:
OVLPRO™ low profile rod cylinders are a particularly good choice when space is limited. These air cylinders have an oval piston bore, giving them a lower profile whether you mount them flat or on the side. The oval shape also keeps the piston from rotating as it extends and retracts. You can spec our OVLPRO cylinders with either male or female thread, side or rear port and any stroke length up to twelve inches.
CRL washdown gearboxes solve design problems when you need a right-angle gearbox that can handle the toughest wet and/or harsh operating environments. "CRL" indicates our trademarked Continuous Recirculating Lubricant design that offers a superior solution for continuous duty and high cycle applications. The gearbox comes pre-lubricated (you can choose food-grade lubricant), plus it's sealed and leak-proof.
Stainless steel gearboxes are the ultimate must-have for washdown environments where sanitation is also critical. Frequent, high-pressure washing with caustic chemicals can cause other materials to rust or corrode and cause paint and other coatings to chip. Our stainless steel right-angle gearboxes meet even the most exacting standards. We make several styles, each with multiple configurations.
We can provide 3D STEP CAD files for all of our gearboxes, just let us know which one(s) you need. And don't forget, we're always available to answer questions or team up with you to design one-of-a-kind components for any industrial equipment needs.