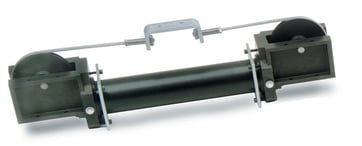 Rodless cable pneumatic cylinders are very useful for many applications because they save space. With no rod to extend or retract, rodless cable cylinders stroke along their own body length. So they save valuable machine space because they are almost half the overall length of a comparable rod cylinder while producing the same, if not more, punch.

W.C. Branham manufactures all of our cable pneumatic cylinders using the highest quality of materials and workmanship. From Mil-Spec rated cables which provide millions of continuous cycles to 6063T6 aluminum hard coated I.D. and O.D. tubing to sheaves made from high strength aluminum and superior sealing, you can count on them to provide reliable operation with minimal maintenance for years.
They do require some care, like all cylinder types, of course, which can be easily performed on schedule with the rest of the equipment they are mounted in.
Periodic Maintenance for Your Cable Cylinder
Your cable cylinder should be part of a preventive maintenance program. Most likely, the cable cylinder is being used in high production area where downtime is crucial. It is suggested that you order a repair kit for the cable cylinder and store it. By doing so, you minimize the downtime and production costs should any unforeseen emergency result.
We suggest that the cable cylinder be kept as clean as possible. Periodically inspect the sheaves, cable, and gland seals for contaminants. Adequately lubricate the cable cylinder with SAE 10 or 20 non-detergent oil.
Step-by-Step Replacement of the Cables On Your Cable Cylinder
Should you find the need to replace the cables on your cable cylinder, a cable cylinder repair kit can be ordered. The repair kit contains two (2) cable assemblies for a double acting cable cylinder and one (1) cable assembly for a single acting cable cylinder. The cable assembly has the main cable cylinder gland seal manufactured onto the cable as well as terminal ends. The repair kit also includes a seal kit of all the remaining wearable seals like piston U-Cups and O-Rings and others.

Dismount the cable cylinder from the machinery.

Disconnect cables from clevis or load bracket.

Remove sheaves from both cylinder heads. Save retaining rings for reattachment.

Remove the seal gland retaining ring from each head. Save retaining rings for reattachment.

Remove the tube retaining socket head cap screws from each head.

Grasp one cable and pull piston towards one end until exposed.

Disconnect the cables from each end of the piston.

Pull the cable assembly back through each head to remove.

String a new cable assembly through the head in reverse order, Lubricate O-Rings found on O.D. of cable gland. Take care in reseating the integral gland. DO NOT use sharp instruments as they may damage the cable seal or the nylon cable jacket.

Inspect cylinder tube I.D. If lubricant is required use STP® 4 Cyl Oil Treatment or equivalent.

Reinstall the seal gland retaining ring.

Replace all seals and gaskets.

Reconnect the cable assemblies to the piston. Loctite® (Blue) 242 or Permabond #MM-115 must be used on the piston terminal connections.

Insert piston back into the tube taking care to gently tuck the piston U-Cups into the tube using a blunt instrument.

Reattach the cylinder heads using the socket head cap screws taking care to properly align the heads.

Remount the sheave assemblies.

Reconnect the cable assemblies to the clevis or load bracket.

Test the cable cylinder for function and leaks.

Reinstall the cable to the machinery and follow Proof-Loading and Pretensioning Instructions. This set of instructions may be downloaded at WCBranham.com.
It is important to tension the cables after mounting to ensure maximum service life of the cable cylinder. Our cable Proof-Loading and Pretensioning procedures will assist you.
Find the Right Design For Your Application
When you need the power and precision of a pneumatic cylinder in a small package, a Branham cable cylinder is your best choice for reliable operation with minimal maintenance. They come in several configurations that fit many different applications. These include Guided Cable Cylinders, Single Acting Cable Cylinders, Linear Tension Cable Cylinders, and the standard Rodless Cable Pneumatic Cylinders.
Contact us today for options and specifications to fit your needs.