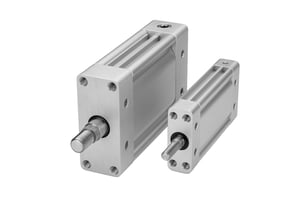 Space is often a major consideration when designing equipment for industrial applications. While compact air cylinders have been used for decades, their popularity continues to increase because their short stroke and low profile can accommodate tight spaces where traditional cylinders would not fit.
Small but mighty
Compact air cylinders may be smaller, but they can be just as powerful as their larger cousins. They can be used for linear actuation and control in a wide variety of applications, including:
Packaging

Manufacturing

Conveyor systems

Food processing

Material handling

Automated assembly or sorting

Bottling and filling

Wire machinery
While some larger pneumatic actuators feature a rodless design, all compact air cylinders use a piston rod. Single-action units provide force in one direction only, either to extend or retract the piston rod. The opposite movement can be benign (occurring automatically when air pressure is released) or spring-activated. Single-action compact air cylinders are a good choice for ejecting or clamping parts and for actuating levers or flaps.
Double-acting compact air cylinders use direct pressure to both extend and retract the piston rod. This style is commonly used in applications from bending and clamping to lifting and lowering, feeding, sorting, punching, and shaking.
What can that small size do for you?
Compact pneumatic cylinders offer distinct advantages, thanks to their design versatility. These benefits include:
Lighter weight

Adaptable to more applications and environments

Greater equipment design flexibility

Multiple mounting options to further support efficient design and ensure top performance

Numerous standard configurations are possible

Custom design offers virtually unlimited options

Powerful, reliable performance

Multi-piston design can be used to produce greater thrust

Feedback sensors can be used to accommodate multiple load positions
Choosing compact cylinders from W.C. Branham offers distinct advantages as well. We make both traditional and compact pneumatic cylinders, each of which can be spec'd in multiple lengths and bore sizes. In fact, we offer three different lines of rodless cylinders:
Eliminating piston rotation
Piston rotation can be a serious challenge in many applications. Because traditional components are round, the rod is able to rotate slightly as it extends and retracts. This pushes thrusting force off-center, reducing the cylinder's ability to perform as expected. Eventually, this over-loading can cause rod bearings and seals to wear unevenly, or it can bend the rod and/or piston, requiring early repair or replacement. Rotation can even cause the rod to de-thread from the piston.
Typically, guides are installed to prevent rotation. However, at W.C. Branham we have designed an elegant alternative — the OVLPRO™ Low Profile rod cylinder. The piston is oval, not round.
That oval shape keeps the piston rod from rotating as it extends or retracts. The increased durability reduces risk of component damage or breakdown, assuring greater uptime and productivity. The oval shape also gives the cylinder a lower profile compared to traditional ISO and NFPA round bore products. The OVLPRO™ can be mounted flat or on its side, and it can be stacked.
This popular product offers threading and porting options, and it is available in 14 standard stroke lengths, and can be custom-made with any stroke length up to 12 inches. And this fall we will introduce the newest model in this line, the OVLPRO™ Low Profile compact rod cylinder, which has an even smaller bore.
Give us a call to get design help
We can provide 2D and 3D CAD files for any of our products, to help in your design process. Nonetheless, despite the fact that compact air cylinders offer seemingly endless standard configurations, sometimes your application requires a product that is truly unique. At W.C. Branham, we specialize in addressing custom design needs, whether you need us to slightly modify one of our many standard options or you need an entirely new design.
We're always here to help. Feel free to contact us!