New Product Release: PFS38 Pneumatic Spring Applied Brake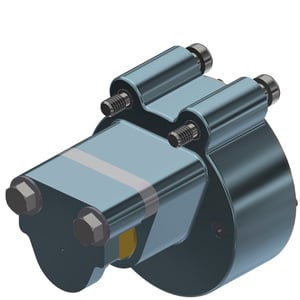 Scale matters in industrial design. When it comes to braking, you don't necessarily need enough torque to stop a freight train. A gentle touch will do fine for subtle movements. A larger brake may work OK if it fits the space available, but it will probably cost more and not operate as efficiently.
We, at W.C. Branham, are excited to announce our new pneumatic spring applied brake, which will be available in October 2018. The PFS38 is the smallest member of our pneumatic spring applied caliper disc brakes family, providing half the torque of our next-smallest model, the very popular PFS47.
The Story Behind the PFS38
Anyone who knows our Branham team knows how much we love a good challenge. So, when a customer in India contacted us and said they needed something special, we jumped right in. They were designing a material handling device with an articulating arm — an elbow that would incorporate a rotor and brake for positioning. They were interested in the Branham PFS47 pneumatic spring applied brake, but it was overkill for their job and cost more than they wanted.
Then, the compact PFS38 was born. It joins five other products in our series of pneumatic spring applied caliper disk brakes, which offer tangential force ratings from 465 pounds to 12,236 pounds. Tangential force produced by the PFS38 is rated at just 233 pounds, with 518 pounds of clamping force.
The PFS38's compact size is a design plus as well. It measures just 3.6 x 4 x 4.5 inches when matched to a half-inch thick brake disc or linear plate. It can fit any diameter disc or rotor or be used with a linear plate or rail. With a 30-inch diameter disc, it can generate 3,350 inch-pound of braking torque.
And the PFS38 isn't just small, it's lightweight, thanks to hardcoat aluminum construction. The non-asbestos friction pad linings are replaceable. If needed, the device can be spec'd with higher coefficient pads or special plating.
From Custom One-Off to Standard Lineup
We also make a hydraulic, spring applied version with the same tangential force rating as the PFS38, called the FS38, that was born as a result of a custom one-off application and now put into our standard lineup. So, once we had designed this small pneumatic, PFS38 model for our client, we realized there is a real niche for a pneumatic product of this size on the factory floor. With that in mind, we decided to make it available to all our customers.
Could the petite PFS38 pneumatic spring applied caliper disc brake be the solution to your next design challenge? Maybe so. If you'd like to hear more about it, just let us know.