ISO Pneumatic Cylinders for Food Processing Applications
As of the first quarter of 2022, 88% of manufacturers still reported that supply chain shortages are their #1 business challenge. If you're in food and beverage manufacturing or any similar industrial business here in the US or Canada, you don't need a formal study to make you aware of the problem. You have probably felt the choke of the supply chain on things like replacements for your pneumatic cylinders. If that's the case, an ISO cylinder may be your solution for any of these food processing applications.
Cylinder-driven systems can be used to chop, blend, and shape food. On a food packaging line that uses a conveyor belt, pneumatic cylinders can sort and distribute items efficiently.
Agriculture products like dairy need specific pressure levels to extract the various components of the raw milk. Pneumatic cylinders excel at this.
Cylinders can also help with opening and sealing packaging, capping bottles, and moving inventory into boxes. The precise nature of a pneumatic cylinder means it can handle things like eggs or bananas without breaking or bruising the food.
Air, or pneumatic power, is also inherently less messy and less costly to run than either electric or hydraulic alternatives. Plus, pneumatic cylinders can be made with stainless steel so they can withstand harsh washdowns and offer the level of hygienic safety required in food processing.
Why Go ISO?
An ISO cylinder is the same as US-made NFPA cylinders when it comes to performance. But their specs are slightly different, so they are not functionally interchangeable with US-made cylinders. ISO cylinders are designed to meet requirements set by the International Organization for Standardization to ensure reliably uniform quality and safety. This means you can quickly and easily replace one ISO cylinder with another. W.C. Branham has a partnership with Artec® to deliver ISO cylinder options to our customers in North America so they no longer have to wait weeks to receive the pneumatic actuators they need to operate their production equipment.
ISO 9001:2015 Pneumatic Cylinder Varieties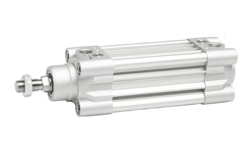 Artec® is ISO 9001:2015 certified. The product line-up includes rod cylinders, short-stroke and compact cylinders, and round body cylinders:
ISO 15552 Cylinders – Series H (Series Y for stainless steel)
ISO 15552 Cylinders – Series U
ISO 21287 Compact Cylinders – Series P
ISO 21287 Stainless Steel Compact Cylinders – Series X
ISO 6432 Micro Cylinders – Series O
Artec also offers these non-ISO cylinder options:
UNITOP Compact Cylinders – Series A
Guided Compact Cylinders – Series E
Short Stroke Cylinders – Series R
Additional Rodded and Rodless Cylinders Available
Adding easy access to Artec's® product inventory gives our customers more choices and ensures they can get the cylinders they need in a timely manner to keep production lines moving. This complements the more than 1,300 products we design and manufacture here at W.C. Branham.
That includes a wide range of rodded and rodless actuators:
Which ISO Pneumatic Cylinder Is Best?
If you're a North American OEM, you know that equipment for export requires ISO-compliant cylinders. But it may not be immediately apparent which cylinder is best for your application. We can help with that.
If you have questions about Artec® cylinders or need selection advice, just contact us for assistance. We can also provide an evaluation sample you can see for yourself. And, of course, if you have questions about any of our products, we're just a phone call or email away.