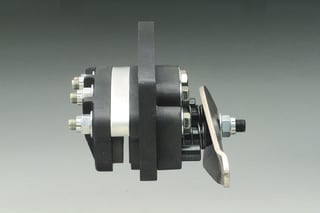 When it comes to industrial and vehicular caliper disc brakes, W.C. Branham is proud to offer a wide range of sizes covering a wide range of applications that create a wide range of solutions. That adds up to more than 300 possible model configurations. It is essential to spec the proper size, in order to assure reliable, cost-effective performance.
Industrial caliper brakes can provide consistent control of web tension or they can provide emergency stopping power. Sizing industrial caliper brakes can be complex, because you have to account for multiple application-specific variables. But you don't have to know or look up all the data and formulas required to complete these calculations. We've provided everything you need, right in this handy downloadable PDF.
Just follow these steps
Our step-by-step guide makes sizing caliper disc brakes easy. You'll figure the amount of braking torque required, and that will enable you to select the most efficient and cost-effective brake and disc diameter package for your application. Steps include:
Calculating braking torque for applications that require stopping within a specific amount of time. You'll figure BTUs per stop to determine heat generation and dissipation, then determine BTUs per hour, then determine the amount of exposed disc area needed to dissipate the heat.


Calculating braking torque for applications that provide tensioning or constant drag. You'll figure BTUs per hour, then the heat dissipation for your tensioning application.


Calculating dynamic or parking braking torque. You'll determine heat generation and dissipation and the amount of BTUs per hour generated, then determine the minimum amount of exposed disc area needed to dissipate the heat.


Calculating the amount of life in stops for one or multiple brakes. You'll figure horsepower hours per stop, then determine the life in stops.
As noted above, the PDF includes data tables and formulas needed to perform these calculations. There are also some helpful guidelines:
Disc temperature should not exceed 300o F, to ensure longest service life.


Formulas provided for heat dissipation assume 80o F ambient temperature and 220o F temperature rise.


The amount of heat a disc dissipates per hour at any given temperature greater than ambient is considered to be directly proportional to the amount of exposed area on the disc. Therefore, disc thickness should be as small as possible. Standard is either 5/32" or 1/4".
Not sure about your calculations or conclusions? No problem. For the final step in the sizing process, you'll fax your worksheet to our Customer Service Group for review and confirmation.
If you need more help, our in-house experts are happy to make specific recommendations based on the information you provide. It's part of our "solutions plus" promise that includes no-charge pre-sales technical support.