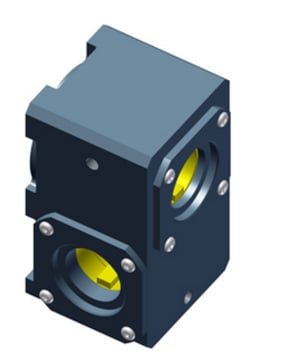 Within the world of gearboxes, there are so many configurations that choosing the right product for your particular mechanical design can be challenging. Nowadays, custom gearboxes are more and more common, chiefly because manufacturing to specification is easier than ever, with newer machine tools as well as design and automation software. So, when determining the right angle gearbox that will work best for your mechanical design, it's important to identify the key aspects of your design and application.
A Checklist for Selecting Your
Right Angle Gearbox
Gearing that mounts properly and performs to specification is easier after reviewing the following and answering as many of these questions as possible:
How will the gearbox be used?
Is it used to adjust something by hand, or a high-speed motor? What is the expected duty cycle of the gearbox? Continuous? Intermittent?


What right angle drive is typically used in the application?
What mounting features and locations does your configuration require?
What is your desired input/output configuration?
What is the required input/output torque? What are the input/output RPMs?


What is the desired gear ratio of the drive?


Are you working with a 1:1, 3:2, 2:1, or 10:1 or larger?




Are there special requirements for the gearbox?
What temperatures will the box be exposed to? Are there special wash-down or corrosion-resistant requirements? The chemicals it's washed down with will determine if you need special coatings.


What is the acceptable amount of backlash for your gearbox application?
Look to helical, spiral bevel or worm gear types in aiding your decision.
Choosing a Standard or Custom Right Angle Gearbox
Custom and standard gearing aren't mutually exclusive. Where fully custom gearboxes aren't a feasible option (for example, quantities aren't high enough), choosing a manufacturer with built-to-order gearboxes from standard modular subcomponents might be a wise choice. Look for manufacturers that employ the latest CAD software, CAM software, and machine tools to streamline post-processing work and reduce one-off costs.
After you've chosen a gearbox, it is advised to discuss your application with the manufacturer or their technical representative. Once installed, perform several test runs to replicate typical operating scenarios. If unusually high heat, noise or stress is present, repeat the gear-selection process or contact your representative for assistance. You'll find that they are willing to assist you in making a successful installation for your application.
Insert-A-Shaft™ Right Angle Gearboxes from W.C. Branham
Whether your design requires standard or custom, right angle gearboxes from W.C. Branham are a vast improvement over the "float-style" or "slide-style" models made by other companies.
W.C. Branham's Insert-A-Shaft™ right angle hollow bore helical gearboxes package an all ball bearing configuration in a leak-proof, sealed gear housing, and pre-lubricated design that is superior to the competition. The immediate benefits are achieving higher thrust and radial loads, lower operating temperature for greater efficiency, no leakage, and longer service life. Each gearbox has two helical gears that mesh at 90º to rotate power. They are bi-directional and slide axially along keyed shafts for easy installation. With hundreds of models to choose from, they are shipped pre-lubricated and installation ready.