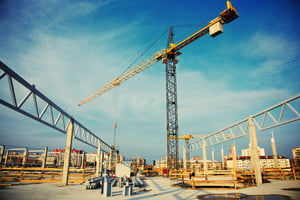 Fluid power is a great way to help automate material handling. It is the process of using a fluid under pressure to move a load or perform some other mechanical task. Hydraulic systems typically use a specialized oil, whereas pneumatic systems use compressed air as the "fluid." Both types of actuators can be invaluable for material handling applications, though not necessarily the same ones.
Here's what you need to know about fluid power and material handling.
Functional and Financial Benefits of Fluid Power
When it comes to fluid power, there are a handful of functional and financial benefits to point out. They include:
Versatility. Fluid power can be applied to a very wide range of industrial and other applications to perform tasks such as lifting, turning, rotating, stopping, and forward or backward movement for conveyors.
Wide range of configuration options that enable standardized, more cost-efficient equipment design
Can be very compact in size to accommodate limited space
Fluid-powered actuators are durable and dependable
The bottom line is that fluid power can streamline material handling to improve efficiency, increase overall production, and even broaden production capabilities.
Hydraulics are Used With "Heavy-Duty" Tasks
Material handlers such as construction equipment, cranes, forklifts, and shipyard hoists use hydraulic power because loads are very heavy and the working environment is often harsh. Hydraulic systems are self-contained within each unit, which easily accommodates mobility. On the downside, hydraulics require frequent maintenance and fluid can leak if seals become worn.
Nonetheless, hydraulic actuators are often an excellent choice for conveyor or feeder systems in manufacturing.
Pneumatic Actuators Offer Precision
The ability to precisely automate material handling increases efficiency and reduces costs. Pneumatic actuators offer that precision, especially when fitted with positioning sensors, and they are ideal for industrial environments where sanitation is an issue. They are strong but can be quite small, and they can be used with different types of mounts, too.
Pneumatic systems require an air compressor relatively close-by, but many industrial facilities use compressed air for multiple purposes.
So, What is the Best Actuator for Your Design?
That depends on the material you need to handle, how you need to move it, and the working conditions. That's why there are several different types of fluid-powered actuators.
For example, W.C. Branham makes an entire line of DURATRK rodless cylinders, which can be figured in numerous ways. They can even be used to retrofit a design, to boost performance and efficiency. Our DTK and DTS models both offer the same stroke length options, but the DTK can allow a footprint that is nearly half the size.
We also make our exclusive OVLPRO line of pneumatic actuators that feature an oval bore and piston. Over time, traditional round-bore rod cylinders can experience rod rotation as the piston slides. The oval shaped bore inside the OVLPRO cylinder prevents piston rod rotation, making it ideal for applications that require extreme precision and high, repetitive cycles.
In spite of the numerous configuration options available, you may not be able to build exactly what you want. That's where custom design comes in — something that's right up our alley here at W.C. Branham. Our engineers and designers love a good challenge, and we know that the best solution is one that is exactly right, not pretty good. So, if you have questions or need recommendations, give us a call. We're here to help.