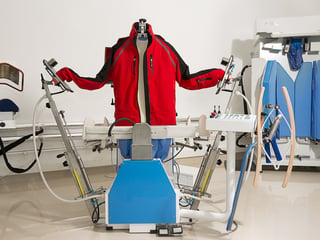 Working at her wringer washing "machine," your great-great-grandmother could not have envisioned today's commercial laundry facilities. In hospitals, hotels, uniform supply companies, and other industrial settings, automated laundry machinery unloads, lifts, feeds, conveys, washes, dries, presses, folds, and sorts garments and other items, large and small.
The work is often endless. Yet machines can perform all of these steps with little human intervention. Without air cylinders to drive and direct this choreography, industrial laundry systems wouldn't exist. Air cylinders help control starting, stopping, and speed of moving parts at every step of the process.
So what do you do when there's a breakdown?
You troubleshoot, of course. Is the air cylinder responsible? Can it be repaired, or will you need to replace it? Productivity is critical, so the sooner you can identify and fix the problem, the better.
Air cylinders are precision components, and they operate under stressful conditions. They cannot perform properly or reliably if they become contaminated inside. This can happen if air entering the cylinder is not well-filtered, or if too much thread sealant or type is used to install cylinder port fittings.
Some other typical problems and causes include:
Air leakage
Around the piston rod

Around the ends of the cylinder tube

Around optional elements such as cushions adjusters or strike adjusters
You may have a bad seal, damaged piston rod, or tierods could be stretched or loose.
Power loss
The piston seals have become damaged, or the cylinder itself is worn or scratched.
Discolored or scored piston rod
The side load may be too much for the piston rod, or the cylinder's internal lubrication may be failing (which can happen with age).
Piston rod
Binding or erratic movement during cycling

Separation from piston

End breakage
Causes can range from failed internal lubrication or contamination (jumpy movement) to excessive end-of-stroke shock (separation and breakage).
Superior products reduce repairs and downtime
At W.C. Branham, we make air cylinders in several different styles, numerous sizes, and a multitude of configurations for each model. Our products can accommodate tight spaces and very short stroke needs as well as long travel lengths. They can be guided or unguided. Every one of them is designed to reduce the risk of problems down the road, with maximum durability, smooth and reliable performance, and long life. That said, sometimes custom design works best.
W.C. Branham offers field repair kits for our pneU-SA rodless pneumatic cylinders, as well as our DURATRK and MAGTEC rodless cylinders. Each kit includes the necessary cable assemblies, internal soft seals, and gaskets. We highly recommend keeping a repair kit in stock for each model cable cylinder your laundry machinery uses. With the kit at hand, you can make repairs immediately. You won't incur the expense of next-day-air shipping, or costly downtime waiting for your parts to arrive.
We can provide CAD files for all of our products, to facilitate troubleshooting and repairs as well as support the system design and engineering process. Need help? Our people love a good challenge, so give us a call. That's why we're here.