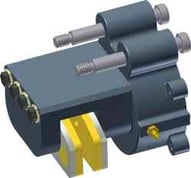 Hydraulic spring applied caliper brakes are an ideal choice for applications that require emergency stopping or static holding. This type of brake is used in industrial machinery as well as heavy off-road vehicles. However, this braking method is not a good choice for continuous slip applications, because friction pad wear results in reduction of spring force and braking torque.
Sometimes called failsafe (FS) brakes, hydraulic spring applied caliper brakes can be configured in one of two ways and often the desired configuration will come down to fitment:
With a single acting brake, half the caliper is passive. It is attached to a base plate which can be side-mounted, if necessary. The other half of the caliper incorporates the spring stack. The assembly floats freely on guide pins or shoulder bolts.


A double acting brake incorporates two sets of spring packs, one on each side of the caliper. The brake assembly is fixed mounted on a bracket.
Single or double acting FS brakes can also be configured with single or dual spring stacks depending on the torque required for the application.
Choosing the right holding brake for your application
There are numerous factors that affect which hydraulic spring applied caliper brake will perform most efficiently and cost-effectively for your application. You will need to consder:
Torque requirements

Available hydraulic PSI to adequately release the brake

Whether the brake will be used solely for holding or for stop-and-hold functions – a hold-only brake can perform an emergency stop, but not often because it's not designed to repeatedly absorb that excessive energy without compromising brake force due to pad wear

Size requirements

Operating environment – industrial applications usually required sealed brakes, to protect components from contamination that interferes with performance and accelerates wear

Power requirements (hydraulic functions require continuously-applied pressure)

Controllability and response time required

Industry-specific requirements
W.C. Branham manufactures hydraulic spring applied caliper brakes in 13 different models, including additional options within most of the series. As broad as our product lines are, we are always working to offer even more choices, so you can precisely spec to your design needs.
If you check out our hydraulic spring applied brakes page, you'll see evidence of that in the number of new products listed. Our Caliper Disc Brake Product Guide contains even more detailed information and specs about specific products.
All W.C. Branham hydraulic spring assisted caliper brakes feature:
Cast aluminum construction

Hardcoated housings

Non-asbestos friction material

Replaceable friction pads

Buna-N seals

EPR seals for automotive brake fluid optional

Float mount

Belleville disc spring stack
For our standard models, brake disc thickness can be 5/32, 1/4, 3/8, 1/2, 5/8, 3/4, 1, or 1-1/8 inches. We can also produce customized spacers, in standard or metric sizes.
Feeling overwhelmed?
Given the number of variables and the fact that every industrial application has its own set of challenges, it can be tough to determine if hydraulic spring assisted caliper brakes are the best choice for your application and, if so, exactly which specs are best-suited for your design. Don't worry, we're here to make life easier for you. All you have to do is contact us and we'll help you find the right brake for your needs.