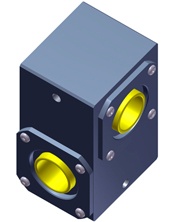 During the engineering design process, you have to map out every component you'll need. If you need a gearbox for your application, how do you know which type? These products are very popular with design engineers because they are extremely versatile, but that also means there's a lot to choose from.
Some styles are particularly well-suited for certain applications. For instance, W.C. Branham makes continuous recirculation lubrication (CRL) models that are an excellent choice for heavy-duty, high-cycle applications, whereas our spiral-bevel models are ideal for high rpm applications. For packaging and similar applications, you may want to consider our Include-A-Shaft gearboxes.
What you don't want to do is play the "guessing game" on sizing and other specs, because – as all engineers know – "pretty close" won't cut it.
Here are four important things to consider when choosing your gearbox design:
1. Size
Some of the most common mistakes made in the engineering design process have to do with improper sizing. Our standard right-angle gearboxes rage from 2.87 to 6.6 inches tall, but you are not limited to these configurations. We know that it's best to find an exact fit, which is why we specialize in custom design products, too.
2. Performance Capability
What are your horsepower and input speed requirements? What about target output speed or torque? Consider load support – you'll need bearing blocks to support overhung, axial, or external moment loads; otherwise, the load could shift to the internal gears, pushing them out of alignment.
3. Mounting Requirements
Also consider gearing orientation – whether you'll need shaft or hollow-core input/output, and whether shafts will protrude horizontally or vertically. If you choose a right-angle gearbox with a worm drive, you can position it so the worm is either over or under the wheel.
4. Environmental Conditions
Will your gearbox have to withstand shock, vibration, or wet washdown conditions? Your gearbox may need corrosion-resistant materials or plating, or you may want to spec stainless steel shafts and housing.
This video will answer some of your design questions about right angle gearboxes. But there are a number of questions you'll need to ask yourself, too. For instance, will you need helical, worm gear, or spiral bevel drive? You can use this article as a checklist for spec'ing your right-angle gearboxes.
Don't forget our design engineers are always available to answer more questions about our products and can walk through design options with you. We use the latest 3D CAD software, and we respond promptly to calls for help.
Maybe custom design is your best route?
Despite the fact that W.C. Branham has a massive selection of right angle gearbox configurations, there are times when you need something specific to your needs. Custom design can often give you a better, more cost-effective long-term solution. Our design engineers can create an entirely unique gearbox "from scratch." It can't hurt to ask, contact our team of experts today.