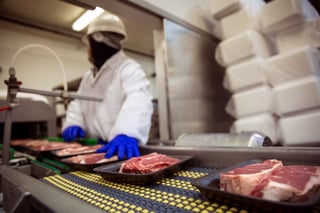 For some industrial applications, gearbox design has to consider more than the functionality of the gears themselves. The gearbox may have to withstand particularly harsh or wet operating conditions. Or it may have to operate in a sterile environment. Or it may have to be lubricated with food grade grease.
The Need for Food Grade Grease Doesn't Limit Your Options
W.C. Branham makes numerous models of washdown right angle gearboxes with 1:1 ratio, 2.5 inch bore center distance, and a wide variety of bore size and configuration options. They use our Food Grade USSDA H1 rated Continuous Recirculating Lubricant (CRLTM) system that makes them ideal for continuous duty and high cycle applications.
Our washdown gearboxes are also sealed and leak-proof to accommodate food grade grease and operate safely and reliably in wet, hostile, or sterile environments.
Sometimes Stainless Steel Is the Best Choice
Operating equipment in food processing, beverage bottling, or the manufacture of pharmaceutical products from drugs to bandages requires the utmost in product protection and gearbox performance. So, W.C. Branham makes the broadest selection of stainless steel right angle gearboxes on the market.
Stainless steel has smooth surfaces that won't trap moisture, particles, or bacteria. It is highly resistant to both acid and alkaline solutions, including chlorine. And its durability is unsurpassed, enabling it to withstand extreme washdown water temperatures and pressure. Because it is virtually maintenance-free, it is a cost-effective choice over the life of the product, too.
Stainless steel also looks "clean." While this isn't generally a key factor in right angle gearbox design, aesthetics definitely matter in environments where outside visitors or inspections regularly occur. Meat packing, for instance. Bright, shiny stainless steel makes a good impression, whereas equipment that needs re-painting or a new powder coating can make the entire facility seem sub-standard.
Our stainless steel models are availible in multiple configurations, with a variety of bore sizes and many more bore center distance options, including 1" center distance. And, of course, they all accommodate food grade lubricant.
Which "Food Grade" Grease Should You Use?
There are different types of food-appropriate lubricant, but H1 grease is most common and can be used where incidental food contact might occur. So choosing the proper grade of grease is important, but choosing a gearbox that is fully sealed and self-lubricating ensures maximum safety.
Unusual Specs? Give us a Call
Simply adding food grade grease to any gearbox cannot achieve the performance and protection levels required for certain applications. It takes the right gear design, superior materials and workmanship plus the food grade lubricant to ensure safe, cost-effective operations. This is why W.C. Branham offers so many choices.
Nonetheless, we know your application may require custom design. That's one of our specialties. We always welcome the opportunity to discuss your project, whether you're looking for design ideas or simply need us to point you toward the right product. We are also happy to provide 3D STEP CAD files for any of our gearboxes.